Folks up north have probably already got everything ready for winter, but we're just now starting to see sub-freezing temps here in the south!  Several people have asked me what they should do to make sure their cars & trucks are ready for winter.  This Blog will offer some basic tips to getting your vehicle ready for winter use.  Keep in mind, that we recommend keeping some non-perishable food, extra water, maps, a whistle, a reflective vest, and other basic preparedness items in your car or truck at all times.  These normal items are excluded from this list.
Sub-Freezing Windshield Washer Fluid — Normal windshield washer fluid will freeze near 32 degrees.  Use up all of your existing washer fluid and then install washer fluid that protects and de-ices to at least -20 degrees.
Keep the Fuel Tank Full — This will help reduce the formation of ice and condensation in the tank.  It's also helpful to always have over half a tank in case you slide off the road and need to run the car to keep warm.  If you have a diesel vehicle, make sure you're running #2 Diesel fuel, as it contains additives to prevent the fuel from gelling in cold weather.
Windshield Wipers – Wipers take a beating any time you use them with snow or ice.  Make sure they're in top shape before it's too late!  If you're not sure if you need to replace them, purchase a spare set and carry them with you!
Ice Scraper – This one is common sense, but it seems like most of the people that I know personally forget to put one in the car until after the first ice.
Heater & Defroster Operation – Both of these are critical to winter driving.  Make sure the defroster is working properly to keep you safe by keeping your windshield clear.  The heater blows out of the floor for a reason — it keeps your feet warm and heat rises.  Check for proper operation of both.
Your Battery — If you have an average battery and it's five or more years old, consider replacing it.  Most auto parts stores will check the battery fluid level and test it under a load for free.  The expansion and contraction of the internal components of the battery, slower moving engine parts due to thick, cold oil, and potential for low batteries to freeze in the harsh winter weather is one of the number one reasons for winter break downs.
Check Belts & Hoses – It's one thing to be broken down on the side of the road during the spring or fall, but check those belts and hoses before winter time!  If you break down for a broken belt or dry rotted hose in the winter, remember; you can't run the car engine to keep you warm.  Now is the time to check the condition!
Check Coolant – Check to see how well your coolant is protecting you.  Any automobile service department or oil change facility can do this.  You can also purchase your own antifreeze tester for only a few dollars.  If the temp is out of spec, or corrosion is present in the system, its time to flush your coolant system and replace the coolant.
Check Spare Tire — Make sure it is in good condition and properly inflated.
Change Oil & Other Fluids – Basic vehicle maintenance is always important, but changing to a good, quality, synthetic oil before the winter months also reduces the wear on moving parts.  You can run a quality 0W-20 or 0W-30 synthetic in many vehicles during the winter to increase cold weather lubrication and help easy starting the motor.  We use AMSOIL in our vehicles.
Check tires – If you have old, dry rotted tires, consider replacing them.  Having to change a tire in a snowbank isn't fun.  Rough, icy, and sanded roads are especially hard on car tires during the winter months.  If you will be driving on roads that are unmaintained, make sure you're running the right type of snow and/or ice tires and that they have good tread.  Also check the operation of your AWD or 4WD, and condition of tire chains if you own them.
Remove Stored Water on Cold Nights – Many people store water in their vehicles in case of an emergency.  Any time the vehicle will be turned off for more than an hour or two in sub-freezing temperatures, you should remove the water so it doesn't freeze.  Don't forget to put the water back in the vehicle when you drive it again!
Flashlight – It's always important to carry a light, but when the weather is harsh, if you need to check something on the vehicle, under the hood, or signal somebody, time is critical due to exposure, and other vehicles driving by on slippery roads.  Make sure you keep a flashlight with fresh batteries in your car.
Winter Weather Emergency Kit — Some ideas include a good LED flashlight, spare batteries, a cell phone charger, tow rope, jumper cables, some sand, a small shovel, warm blankets, gloves, some road flares, and some spare wool socks & waterproof winter boots.
Here's a photo I took during the 2009 ice storm in Northwest Arkansas.  It's just another reminder why you need to have your car ready!!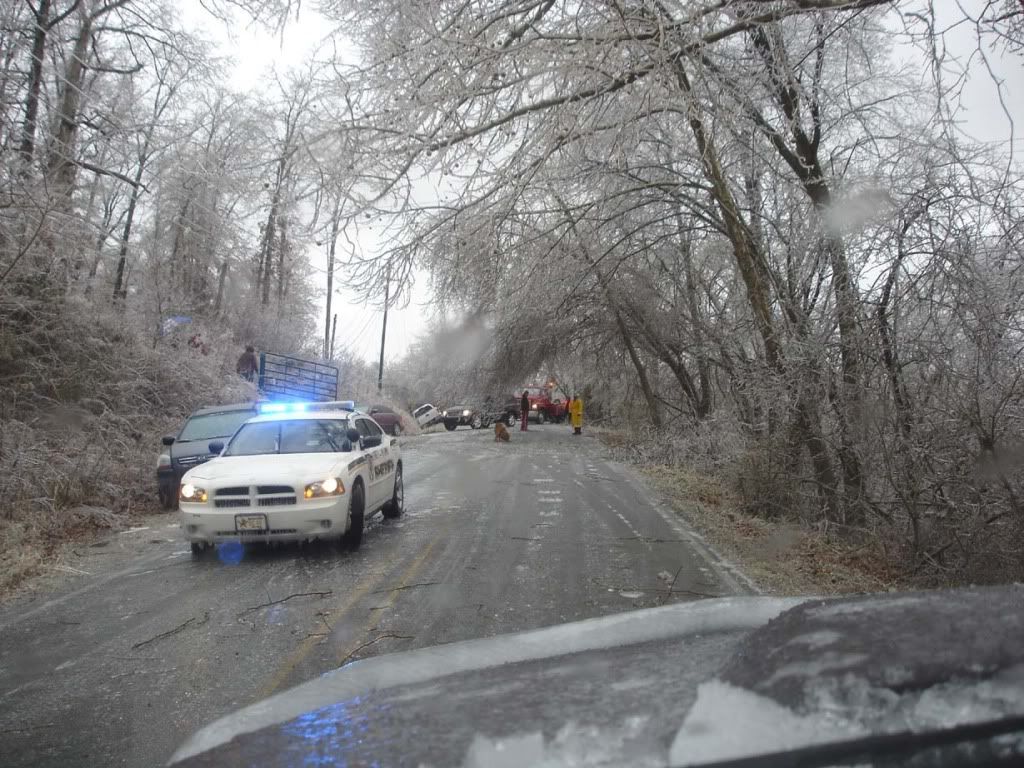 Later this week, I will be posting a blog about preparing your house for the winter months.  Please comment !!